In association with Escape To Suomi
It's been nearly six months since the end of last season, and we were threatened with an even longer wait for hostilities to resume – three of the six fixtures in the opening weekend were postponed due to snow and ice. In April. Those hoping to tune in to FC Inter v HJK will need to wait until May 2nd, while VPS v Lahti and JJK v Jaro have been moved to July 31st.
So the matches that took place this weekend – starting with last year's bronze medallists TPS playing Suomen Cup holders Honka. The match was due to take place at the Veritas Stadion, but had to move to a municipal artificial pitch.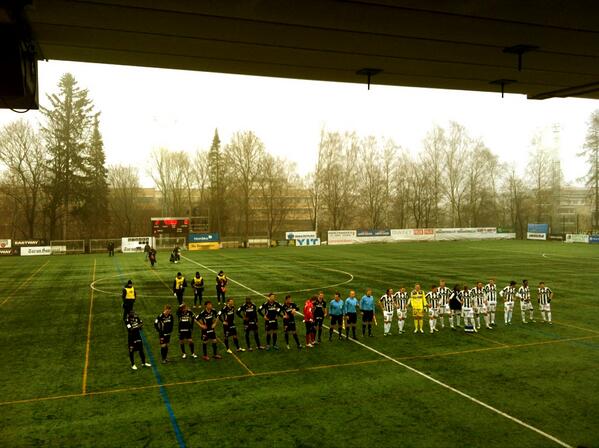 Because of the venue change, there was no live match coverage so those other than the 1250 paying customers have had to rely on YouTube and press reports… By all accounts, the first half was fairly even – both teams with some half-chances, and Honka keeper Tuomas Peltonen making a good save after a goalmouth scramble.
In the second half, a rather reckless tackle by Honka's Ghanaian defender Gideon Baah raised tempers significantly, several players from both teams weighed in, while Honka's Henri Aalto received a second yellow card for his involvement. 59 minutes in, the first red card of the season.
Honka new boys Rubén Palazuelos and Abdoulaye Méïté get stuck in
(photo YLE)
The incident pushed the game in favour of the hosts, and it took nine minutes for TPS to take advantage of the extra man, but it was a splendid strike from outside the box from former Honka midfielder Duarte Tammilehto that opened the scoring. Tammilehto left Honka in the winter after a dispute over unpaid wages (he and HJK new boy Tapio Heikkilä cancelled their contracts, a decision upheld by the Finnish FA), and has already made an impact for his new club. TPS scored their second goal on 80 minutes, another strike from the edge of the area, this time from Petteri Pennanen.
Tammilehto (right) celebrates the opener (photo Sari Gustafsson)
TPS are many people's tip to finish runners-up in 2013, so this was a good start. Honka are an unknown quantity – they lost two of their most promising young players for free, but have brought in experienced players in Méïté and Palazuelos. Some good youngsters remain, but it may be a while before we get an idea of what Honka 2013 will be. In the #Ligatipset2013 contest run by YLE's Antti Koivukangas, I tipped TPS for second and Honka for fifth. Watch this space…
Highlights of TPS 2-0 FC Honka
Sunday saw two games, in Kuopio and Rovaniemi. The northern-most club in Finland managed to get their game on (they have an artificial pitch), and as discussed in my previous article about 
travelling to away games
, IFK Mariehamn had quite the journey. Five hours by boat, and fourteen hours by train. As was pointed out by 
Janne Oivio
, the away team had never won this fixture.
In the end, the visitors broke that hoodoo in style. Despite losing their top scorer Aleksei Kangaskolkka in the winter, they went 0-2 ahead with goals from Mattias Wiklöf and Diego Assis. RoPS striker Boris Kokko pulled one back, but an injury time goal from on-loan Petteri Forsell guaranteed the win.
Forsell is on loan from Turkish side Bursaspor until August (photo Pekka Aho)
Kokko had promised to score in each league match this season, and will no doubt be ticking them off… But the trip back to Åland will be three points better off. Forsell joked after the game about being offered sausages and kebabs by the home supporters, so he'll have something to eat on the way home. This was the first game back in the Veikkausliiga for RoPS after their promotion, and they'll be hoping to take advantage of a bonus home game next weekend against Lahti (switched due to ice in Lahti).
Sunday's other match was between KuPS and MYPA at the Savon Sanomat Areena in front of the weekend's highest crowd at 1801. The game was always likely to go ahead, despite heavy snow making some of the seating areas out-of-bounds. KuPS gave debuts to new signings Omar Colley (already looking like an excellent signing), Jussi Kajala, Dawda Bah and captain Rami Hakanpää, while HJK's on-loan midfielder Emerik Grönroos started in the MYPA midfield.
A goalless first half saw few incidents, but the 18-year-old Grönroos was very impressive, and KuPS keeper Mika Hilander made some decent saves. The second half saw Ilja Venäläinen foul MYPA forward Pekka Sihvola in the box, and Sihvola stepped up and eventually scored the resulting penalty after 58 minutes. Antti Hynynen equalised on 69 minutes, after some penalty box pinball, with a nice finish at the second attempt.
Both teams had chances to win the game (Voutilainen for KuPS, and Sihvola for MYPA), but the keepers did their jobs, and the match finished 1-1.
Highlights of KuPS 1-1 MYPA
After KuPS tenth place in 2012, a home draw is a slightly disappointing result, but a point is a point. MYPA finished sixth last season, and have started 2013 with a very similar team. Neither is in Europe this season, so at least there'll be no extra midweek distractions.
So that was a reduced week one, but a nice start to the season with eight goals, one red card and some interesting cameos from new faces. Next week should see a full programme of fixtures, watch this space for updates.
————-
Click name above to follow Rich on Twitter and have a read of Rich's Finnish football website at www.escapetosuomi.com